Uponor Smatrix Pulse for Homeowners
Uponor Smatrix Pulse for Homeowners
What is Radiant Heating?
Imagine getting out of bed in the morning and placing your feet on warm hardwood or stepping out of your shower onto a warm tile floor. That's the ultimate comfort of radiant heating.
Typically installed beneath floors (but also works behind walls and ceilings), radiant heating uses the energy-efficient power of water to bring warmth to surfaces in a home.
This type of home heating provides numerous benefits over forced-air heat, including:
Superior comfort
Even temperatures with no drafts
Cleaner indoor air
Quieter function
Maximum energy efficiency
How Radiant Heating Works
In a radiant floor heating system, warm water flows through flexible PEX tubing in one of the following ways:
Embedded in concrete (ideal in basements, garages, or slab-on-grade homes)
Under the floor between joists (perfect for remodels when you don't want to disturb the flooring above)
On top of the subfloor in panels (also ideal for remodels or finishing basements when the concrete is already poured)
Stapled down to the subfloor (cost-effective method for new construction)
Why Radiant Heating is the Right Choice for a Healthier Home
Energy Efficiency
Because water transports energy 3,500 times greater than air, radiant manages energy usage far better than traditional forced air.
By heating the floor and objects in contact with the floor, radiant also provides greater thermal comfort. This allows people to feel warmer at a lower thermostat setting compared to a higher thermostat setting with forced-air heat.
Radiant systems work in zones, so each area of a home can have a different thermostat setting. This saves energy by only warming occupied rooms and keeping unoccupied spaces cooler.
Lastly, radiant systems easily integrate with alternative energy sources, such as geothermal and solar, making it an even more sustainable heating solution.
Air Quality
Radiant heating systems use pumps to move water instead of fans to push air. This means radiant does not circulate dirt, dust, allergens, or viruses around a home, helping to greatly improve the indoor air quality.
In fact, people with allergies often install radiant heating systems along with hardwood or laminate flooring to significantly minimize the allergens in their homes. This method is also recommended by allergy doctors and various allergy and asthma associations.
To learn more, check out this article in Green Builder magazine: Radiant Floors Provide Indoor Air Quality Benefits.
Radiant Heating System Components
A radiant heating system consists of the following main components:
Heat source (boiler or heat pump)
Circulator (moves the water around the system)
Manifold (distributes water from the heat source to the tubing)
Tubing (distributes water through each zone)
Control system (manages comfort levels)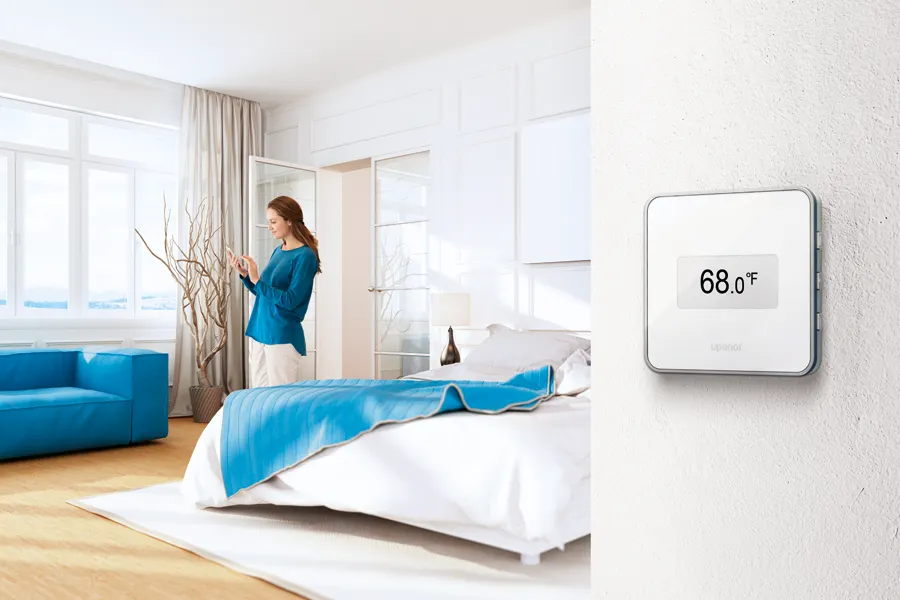 Smatrix Pulse Wireless Control System
Smatrix Pulse is the newest innovation from Uponor, capable of precise comfort control in every room of a home for both radiant and forced-air systems.
This revolutionary system offers precise wireless control of radiant floor heating as well as forced-air heating and cooling systems, all with one solution that connects to a smart home assistant and can also be controlled remotely via an app.
With state-of-the-art wireless technology, you have the freedom to place thermostats anywhere in the home. And with the system's unique autobalancing feature, you can enjoy faster system reaction times for more immediate comfort along with greater energy savings. This is because Smatrix Pulse is constantly learning and gathering data from inside and outside your home to provide optimal comfort and energy efficiency.
It's the latest dimension in smart home technology to provide your home with the ultimate in energy efficiency and comfort.
Radiant Installation Options
There are several options available for installing radiant heating in a home.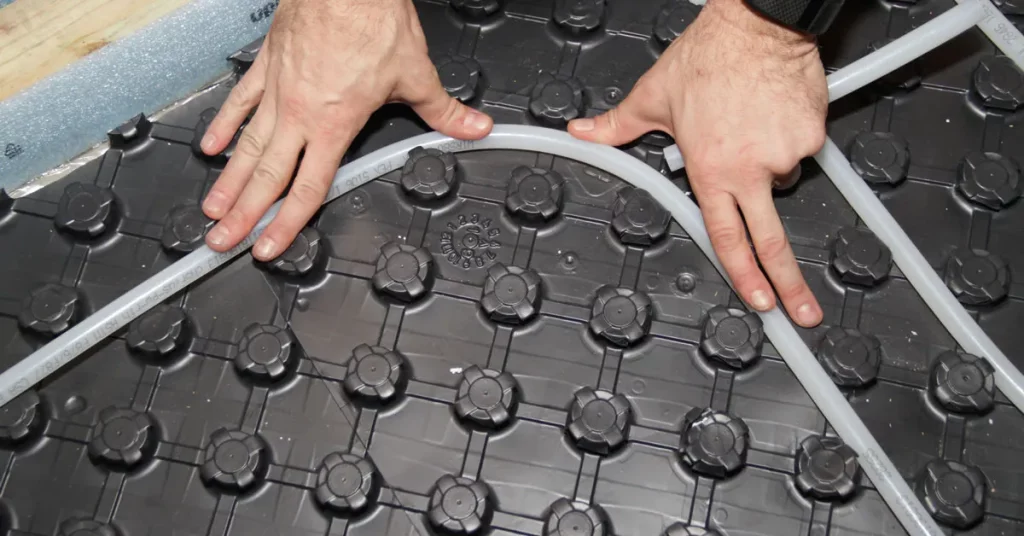 For new construction with a concrete slab, stapling the tubing to foamboard insulation or directly to the wood subfloor before the concrete is poured is the most cost-effective option. This makes the entire concrete slab one giant heat radiator for the home.
For existing homes that require minimal structure changes, there are low-profile, half-inch radiant panels, such as Quik Trak® wood panels or Fast Trak™ 0.5 knobbed mats, which can fasten to a subfloor and hold the tubing in place.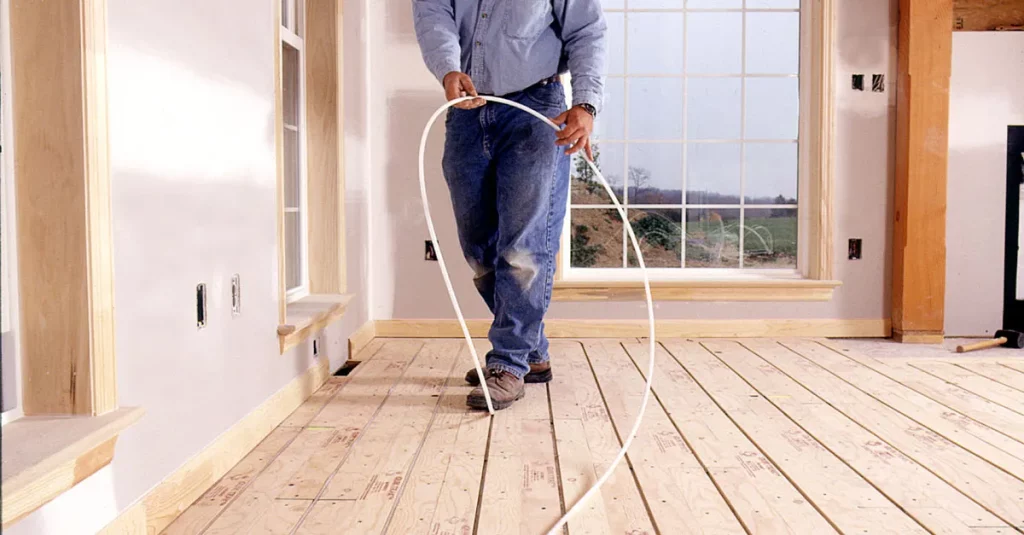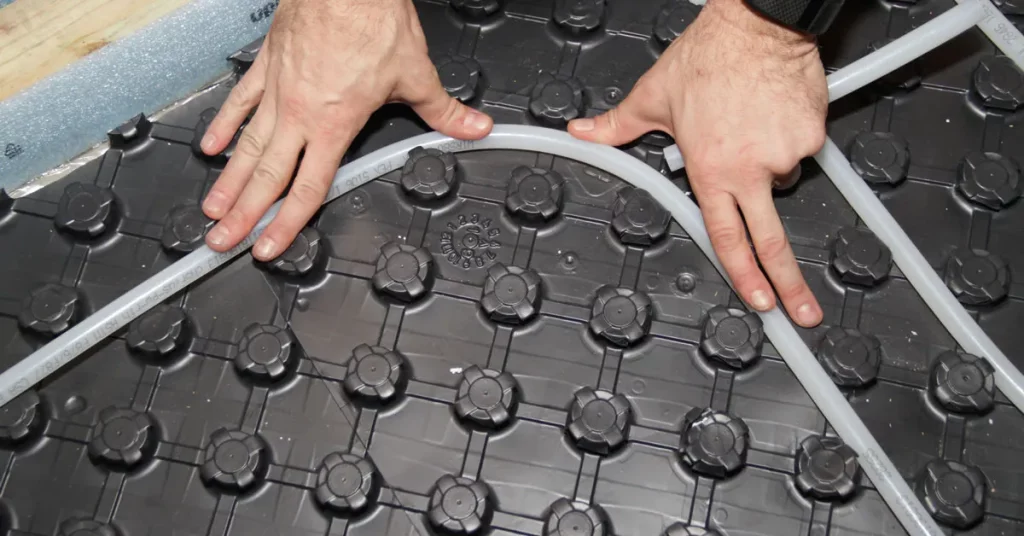 In homes with concrete already poured, Fast Trak 0.5 or Fast Trak 1.3i (which includes insulation in the mat) adhere to the slab to provide a radiant system that offers superior energy efficiency.
For floors with joists below, aluminum heat-transfer plates called Joist Trak™ can fasten to the underside of the floor. This installation method is ideal when you don't want to disrupt the finished floor above.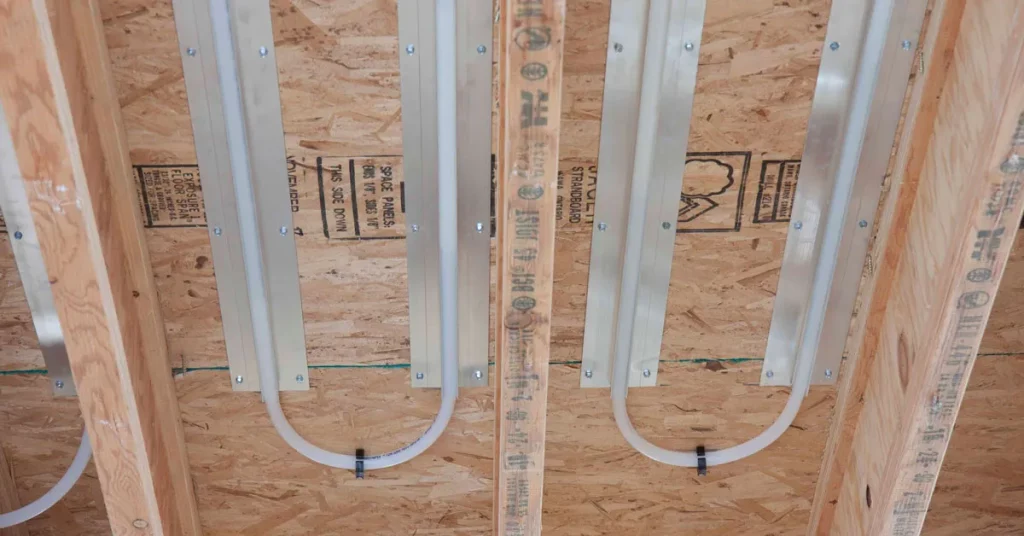 The Importance of Professional Design and Installation
A radiant heating system is only as energy-efficient, comfortable, and sustainable as its design and installation.
Because there are several factors that go into a radiant design, including insulation, heat loss, window and flooring types, and more, it is extremely important that a radiant professional with training and experience does the design and installation.
Uponor offers training and technical support for installers to help ensure the radiant system in your home will provide maximum comfort and efficiency for decades.
For help in finding a qualified radiant installer, contact one of our manufacturer reps in your area.